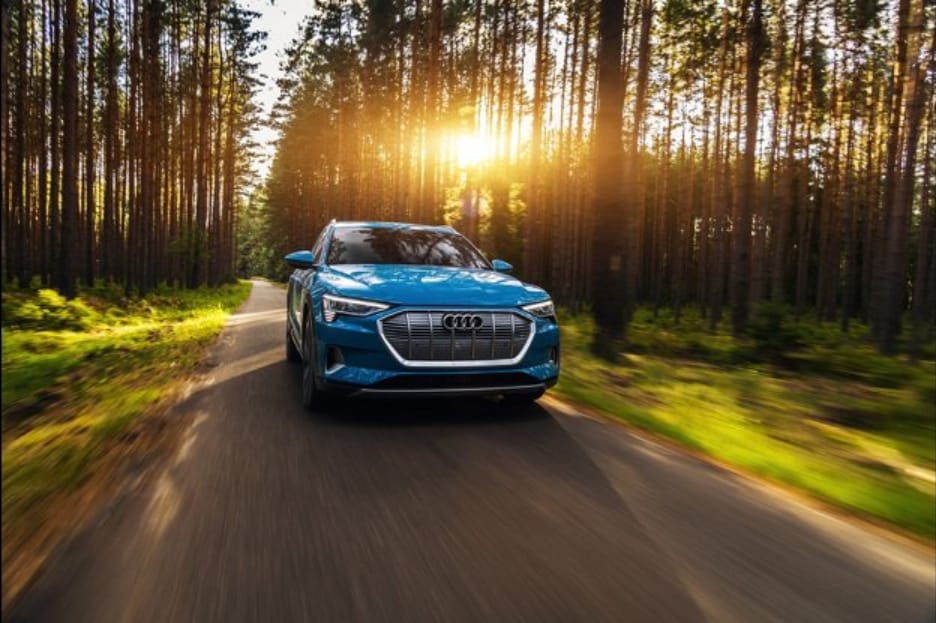 The 2021 Audi e-tron is the latest in a long line of luxury SUVs that combine both rugged sensibilities and forward-thinking design. What results is an all-electric SUV that delivers on an impressive performance and an interior experience that checks off all the boxes. You can find the latest Audi e-tron today at our Sherman Oaks, CA Audi dealership. To get you excited about your future visit with us at Audi Van Nuys, our auto experts have put together this brief review.
2021 Audi E-tron Model Details
The latest 2021 Audi e-tron is unique in that it is a luxury SUV that uses an all-electric powertrain. Tucked inside baseline models, drivers will find an SUV that is wholly capable of providing 300 horsepower and 414 lb-ft. worth of torque. This is due in large part to the duo electric motors that allow the Audi e-tron to leap from zero to 60 in all of 6.3 seconds.
While you won't need to fill up the Audi E-tron with gas, you will need to stop to recharge the batteries. Fortunately, the Audi e-tron is expected to have a range of about 280 miles in base trim options. And speaking of trim options, the new Audi e-tron gets three different variants the Premium, Premium Plus, and Prestige. As a result, you can customize and change the Audi E-tron to fit your exact specifications.
 2021 Audi E-tron Special Features
While the electric motor and battery pack in the 2021 Audi e-tron are certainly tech worth paying attention to, the interior amenities deserve a particular highlight. Enter the Audi e-tron and right away you'll find enough room for four, and a big infotainment screen that gets the latest in Apple CarPlay and Android Auto technology.
Everything in the Audi e-tron is touch-activated, and thanks to the Virtual Cockpit feature, you can get play by play navigations right into your digital display gauge. Other high-tech features on board the Audi e-tron include a Wi-Fi hotspot, as well as a wireless smartphone charging station for those on the go.
Testing the 2021 Audi E-tron at Audi Van Nuys
If you're looking for the ultimate Audi dealership near Los Angeles, CA, we're the ones to go to. Not only do we offer incredible cars like the new Audi e-tron, but our team of dealers at Audi Van Nuys are dedicated to ensuring that each moment you spend in our showroom fully satisfies.