Audi
Audi is a luxury brand obsessed with the future - their passion is now in innovation, sustainability, and community. This passion has always driven them, but now, in a different way. Audi is realizing their impact on the planet, and it's their goal to be 100% net-carbon-neutral by 2025. To have such goals is no easy feat, Audi is innovating at record speed, and it's for you to benefit. While much of the competition is still dreaming, Audi is on the streets. They believe that electric is now. Switching to an Audi e-tron will put you in the wheel behind the creation of Audi's top designers and engineers. The future of this line is more than impressive: they produce zero direct emissions, have the range to take you where you need to go, and are tested to outperform in the harshest environments. Audi is creating vehicles that truly test the limits of mankind and technology.
While Audi's creations are testing limits, it's imperative that their vehicles create an incredible driving experience while keeping you and your family safe. Inside new vehicles you'll be met with all-new infotainment that truly immerses you with your car and the environment. You'll be able to better enjoy your time behind the wheel while putting in less effort. And more importantly, Audi has developed technology that gives you a heightened sense of awareness and prepares you for worst case scenarios. Within an Audi, you'll always be confident.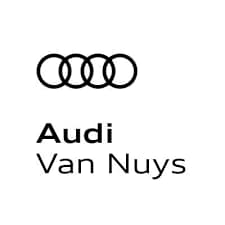 Audi Dealership is Los Angeles
Audi Van Nuys is the #1 Audi dealership in Los Angeles. We're part of the Keyes Automotive Group, who has served greater California for more than 60 years. At our Audi dealership, we make it our utmost goal to provide you with the greatest shopping experience possible.
Shop New & Used Cars at our Audi Dealership
Our Audi dealership provides Los Angeles with the most innovative brand around. You'll find new models such as the 2023 Audi e-tron, 2023 Audi A3, 2023 Audi Q3, 2023 Audi Q5, and the 2023 Audi SQ5. Audi's lineup is more impressive than it's ever been.
Occasionally, what's new is not what you're looking for when you come to our Audi dealership. We carry a diverse pre-owned inventory, stocked with countless car makes and car shapes. If you need a car that's more budget-friendly, we'll surely be able to help you. And if you're looking for something a little more…meet Audi certified pre-owned. Each certified pre-owned model is almost-new, has passed rigorous inspections, and has their quality guaranteed by warranties.
How Can Our Audi Dealership Help You?
Our Audi dealership will provide for you and your car always. You personally will always treated with hospitality when you walk through our doors, and your car, who likely needs attention, will be serviced by the best - our certified Audi service experts. At our Audi dealership we handle auto repairs to general maintenance. We know your car better than anyone else and will always be your best resource when something happens to your car.
Our Audi dealership also staffs financial experts who know how to help you when you decide to purchase or lease a car at our dealership. They'll ensure you get the best rates on the market. Truly, purchasing your Audi doesn't have to be stressful, and it won't be with our help!
Get in Touch With Our Audi Dealership
Audi is pushing boundaries like no other, and we're ecstatic to carry the brand. Letting you enjoy our products and services is more than just business, it's sharing our passion. Visit us at 5239 Van Nuys Blvd, Sherman Oaks, CA 91401 or give us a call (818) 528-5931.